Your dog may not be an Irish Setter or an Irish Wolfhound, but that doesn't matter on St. Patrick's Day--everyone is Irish. Your dog can participate in the wearin' o' the green on March 17th with any of these adorably Irish doggie accessories available on the market. From glittery green bowties to shamrock bandanas to Leprechaun booties and beards, your pooch will be ready to pose for their Instagram pics or proudly step out in their local St. Paddy's Day Parade in their cute and photo-worthy Irish attire.
18. "Pet Me, I'm Irish"
Your pooch will get all the attention on St. Patrick's Day in this shamrock scarf from Etsy that is as green as the Emerald Isle. Just thread your dog's collar through the opening in the cotton scarf and he will be ready for his close up. The embroidered "Pet Me, I'm Irish" saying on the triangular scarf will invite ear scratches and chin rubs from everyone your dog sees. Lucky dog!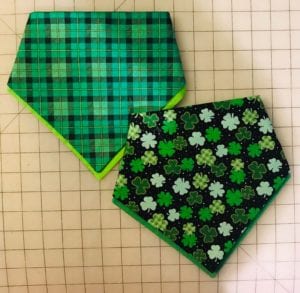 17. Shamrock Bopper Headband
How cute are these shamrock bopper headbands, made by Rubie's Costume Company and sold on Chewy? Your dog will be parade-ready on St. Paddy's Day sporting these shiny shamrock antennae. The headband will stay in place as your dog prances around, thanks to the adjustable chin strap. Two sizes are available so you can get a great fit on your Pomeranian or your Doberman.
16. Leprechaun Top Hat
Your dog can channel his inner Leprechaun in this comical crocheted St. Patrick's Day Top Hat, sold on Etsy. A handmade product, this doggie hat is made of green acrylic yarn and is accessorized with a crocheted shamrock, ribbon, and buckle to replicate a traditional Irish Leprechaun top hat. Your dog will be ready to find a pot of gold at the end of the rainbow!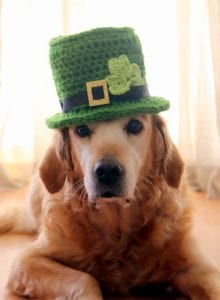 15. Bowtie Beauty
For a classic and sophisticated St. Patrick's Day accessory, you can't go wrong with this adorable shamrock bowtie. An Etsy product, this bowtie has delicate shamrocks in four different shades of green, interspersed with embedded sparkles for a bit of shine. This St. Patrick's Day bowtie comes in four different sizes and fastens with a hook and loop.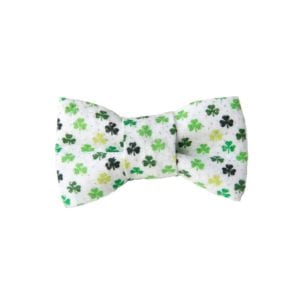 14. St. Paddy's Party Bandana
Through Etsy, Dapper in the City offers the perfect St. Patrick's Day party bandana for your party animal. A green, triangle doggie bandana, this product pays homage to green beer, Irish whiskey, and mint juleps, and all the other adult beverages that make St. Patrick's Day a popular celebration for humans.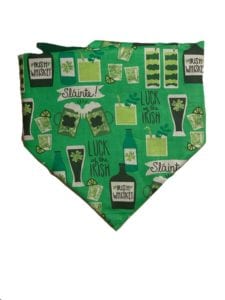 13.  Clover Collar
Your dog can celebrate St. Patrick's Day without going over-the-top adorbs with Yellow Dog Design's shamrock dog collar. Available through Chewy, this understated, yet handsome collar has alternating white and green shamrocks on polyester fabric. A sturdy plastic fastener will keep the adjustable collar in place. You can purchase this clover collar in small, medium, or large sizes.
12. Lucky Collar Charms
Adding a few charms or bells to your dogs collar adds both style and luck. Not to mention a little more attention and admiration. Check out this article from yourdogadvisor.com entitled 15 Classy Dog Collar Charms.

11. Lucky Leash
The luck of the Irish will be with your pooch when he uses this lucky dog leash. The leash design includes an Irish braid and the words "Lucky Dog." Sold on Ebay, the leash is ¾-inch in width and 60-inches in length, perfect for strolls through the neighborhood or to join your local St. Patrick's Day Parade.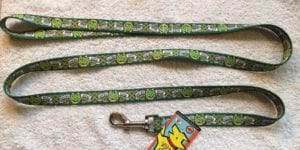 10.  Leprechaun Hat and Booties
If you want your dog to go viral on social media with his cuteness on St. Patrick's Day, you should consider this Leprechaun hat and bootie ensemble. The traditional Irish top hat is enhanced with a pair of elf-like booties. Heads up: the booties are just for your pup's front paws, so you may want to grab something else to complete the ensemble, like a pair of solid green sox. Sold at Walmart.com, this delightful St. Patrick's Day doggie costume comes in two sizes: small/medium and medium/large.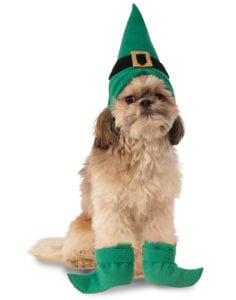 9. St. Paddy's Day Party Collar
Fun and mischievous, Buffalo Bakery's elfin party collar will put your pooch in the St. Patrick's Day mood. With sprays of Emerald ribbons dotted with shamrocks, this festive and fun holiday accessory item will be a great addition to your St. Patrick's Day celebration. Do you have a toy dog breed like a Dachshund, a medium-sized dog like a Husky, or a big boy like a Saint Bernard? These party collars are offered in three sizes.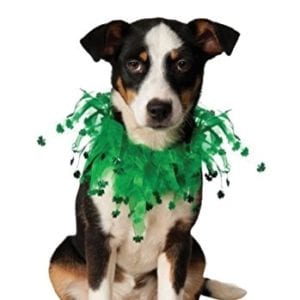 8. Doggie Sunglasses With an Irish Twist
Your dog will look cool and hip in a pair of Ali Express's novelty St. Patrick's Day doggie sunglasses. You can choose from one of three different designs. The first one is a cut-out shamrock, the other is the Irish flag, and the third one has opaque shamrocks on the lens. Your dog will look great for his St. Paddy's Day Instagram pics wearing a pair of this cute and cool doggie shades.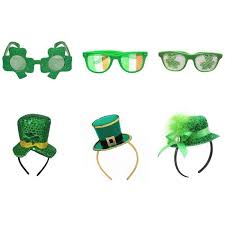 7.  Leprechaun Hat with a Beard
With this hilarious Leprechaun hat and ginger beard, your four-legged best friend will be the cutest wee little Leprechaun at the St. Patrick's Day party. This Pure Costumes combined hat and beard costume accessory comes in two sizes and is sure to attract plenty of attention and plenty of laughs.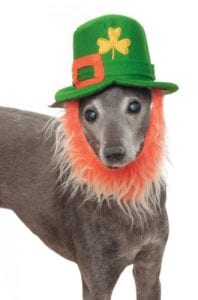 6. Full-On Leprechaun
Amazon sells a full Leprechaun costume for your dog. His Irish puppy dog eyes will be shining in this adorable outfit. With a little green jacket, top hat, and red Leprechaun beard, your furry friend may be mistaken for a little lad in search of a pot of gold. This costume comes in one size.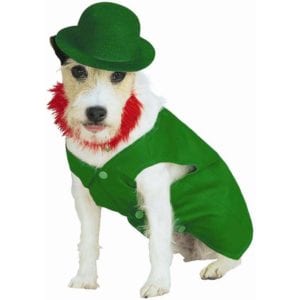 5. Top O' The Hat To You
How sweet is this top hat and shamrock collar combo? Perfect for smaller dogs, this two-piece St. Patrick's accessory is offered through Posh Puppy Boutique. The shamrock medallion on this doggie collar is unique among St. Patrick's Day neckwear for dogs and it's the ideal compliment to the basic, monochromatic green top hat.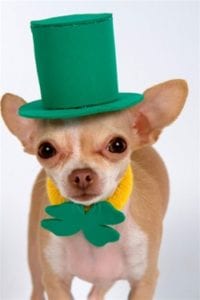 4. Irish Lead
In addition to the traditional green of the Emerald Isle, this cute and clever dog lead from The Artful Canine had splashes of orange throughout the shamrock motif, in honor of the Irish flag. Available in a variety of widths and lengths, an Irish lead like this one will cap off your dog's St. Patrick's Day outfit or make a fashion statement of its own.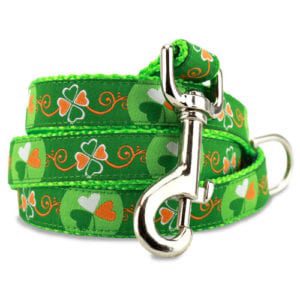 3. For an Irish Lass
Turn your dog into a sweet and lovable Irish lass with Rubie's Costume's St. Patrick's Day doggie hat with built-in braids. The traditional Leprechaun top hat includes twin redheaded braids, tied with dainty green bows. This St. Patrick's Day accessory comes in a small/medium size so it is perfect for Yorkies, Maltese, Bichon Frise, Cocker Spaniels, Beagles, and other small to medium-sized dogs.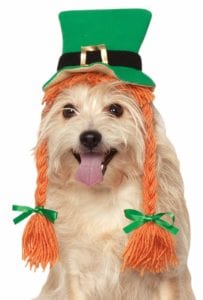 2. Lucky Clover Bandana
With this St. Patrick's Day bandana, your dog will announce to the world that he is one lucky pooch…something you already know. The triangle-shaped bandana easily ties on your dog's neck. The white and green doggie kerchief, made by I See Spot and sold on Amazon, also features a charm-studded shamrock applique. The small bandana fits neck sizes 8" to 14" while the large size fits necks that are 15" to 20".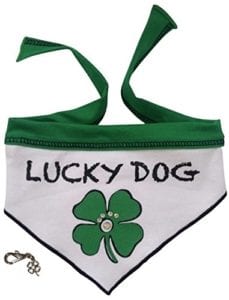 1.  Doggie Hair Bows
Long-haired dogs can get a stylish up-do for St. Patrick's Day with this set of pet hair bows from Pet Show, available on Amazon. Available as a 5-pack, each bow is mounted on a rubber band so you can pull your pooch's fur into a fountain-like topknot. The bows, all emerald green, are sure to make your dainty doggie the belle of the St. Paddy's Day ball.