April 21st is National Bulldogs Are Beautiful Day. The fourth most popular dog breed in America, bulldogs are friendly, loyal, and smart. We are sure that you love bullies as much as we do, but if you need proof, then here are the Top 11 Bullies That Will Make You Fall In Love With Bulldogs.
11.    Jacques, Brad Pitt's Kindred Spirit
Actor Brad Pitt is the proud owner of an English bulldog named Jacques who, Pitt claims, is more family member than pet. A loyal supporter of the breed, Pitt once stated in an interview that he feels as though Bulldog owners are "kindred spirits." He noted, "We have very serious conversations about snorts, farts, crusty eyes, and various forms of gas with other Bulldog owners."

10.    Tillman, the Skateboarding Bulldog
In 2009, Tillman, an English Bulldog with some impressive skateboarding skills, won hearts when he rode atop the New Balance float during the Rose Parade. Tillman is quite the athlete. He has been honored in the Guinness Book of World Records for the fastest 100-meter run on a skateboard by a dog.


9.   Old Boy, a Presidential Pup
Warren G. Harding, who served as president of the United States from 1921 to 1923, was a well-known animal lover. Joining him in the White House was an English Bulldog named Old Boy and an Airedale Terrier named Laddie Boy. Laddie was more of a publicity seeker, stealing the limelight from Old Boy, but it was the Bulldog that was a loyal and loving companion to the president.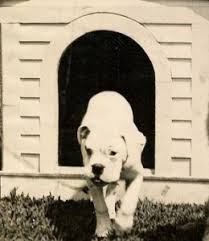 8.   Rattler, a Bulldog Star
Playing the role of Chance in the 1993 adventure movie, Homeward Bound: The Incredible Journey, was Rattler, an American Bulldog. On the set of the film, Rattler was a true professional that got along great with his human and animal co-stars. Don Ameche lent his voice to Rattler's character for the flick.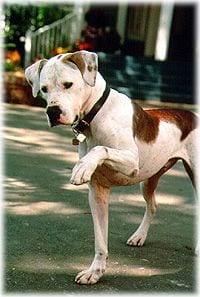 7.   Maggie, a Literary Pooch
When novelist, Truman Capote, wrote his most famous works, In Cold Blood in 1966 and Breakfast at Tiffany's in 1958, he did so with Maggie, his faithful Bulldog, by his side. Perhaps she was the inspiration for the title of Capote's A Dog's Bark, a collection of his stories about the people he met.
6.  Tyson, a Lord of Dogtown
Tyson the Bulldog was quite talented. He appeared on The Oprah Winfrey Show and was a regular on MTV's Rob and Big. Tyson made it to the big screen, appearing in two movies, Undiscovered and Lords of Dogtown. A true diva, Tyson demanded a salary of $1000 per day for his movie roles, in addition to perks, such as belly rubs and treats.

5.   Princess Lola, a Reality TV Star
If you remember the early 2000s reality TV show, The Osbournes, which followed the lives of rocker Ozzy Osbourne, his wife Sharon, son Jack, and daughter, Kelly, then you will also remember Princess Lola, Jack Osbourne's faithful Bulldog. Together, Jack and Princess Lola enjoyed some crazy on-screen antics. Jack even shared some of their additional adventures on Twitter and YouTube, helping Princess Lola amass her own social media fans.


4.  Handsome Dan, an Ivy League Bulldog
Since 1889, Yale University has used a bulldog as the school mascot, and each subsequent bulldog has shared the same name, Handsome Dan. According to Yale legend, a Yale student named Andrew Barbey Graves picked the original Handsome Dan back in 1889 because the dog wasn't spooked by the loud crowds and marching bands, but also because he seemed to really, really hate the color red, rival Harvard's school color.

3.  Meatball, Adam Sandler's Best Man
When funnyman Adam Sandler got married, he naturally picked his closest friend to be his best man. The honors went to his beloved bulldog, Meatball. For the festive occasion, Sandler had a tiny tuxedo and yarmulke made for Meatball. Since Meatball's untimely passing, Sandler has adopted another bulldog, Matzoball.

2.  Henri, the New Cadbury Bunny
Just a few weeks ago, Cadbury Egg spokesperson, Katrina Vatter, announced that Henri, a one-and-a-half-year-old North Carolina bulldog, won the Easter candy maker's first ever "Bunny Tryouts." Henri will be featured in this year's Cadbury Egg TV commercials. Henri beat out approximately 4,000 other pets who also donned a pair of bunny ears for photo shoots.

1.  Rudy, Westminster's Viral Sensation
At February's Westminster Kennel Club agility competition in New York City, Rudy the Bulldog became a viral social media star when footage of his agility run hit the internet. Although Rudy didn't put up an impressive time—51.63 seconds versus the Border Collie's time of 32.05 seconds—Rudy showed everyone that athletes can come in all shapes and sizes. Rudy became a source of motivation for people who were struggling to maintain their New Year's resolutions to work out more.

Bulldogs are beautiful! But there is more to this wonderful breed than just a pretty face. One of America's most popular dog breeds, the Bulldog is a quintessential favorite of the dog world. On April 21st, we can all join together to celebrate the awesomeness that is the Bulldog.