You can celebrate Mexico's independence day with your pup, pooch, or perro this May 5th by including all of the traditional south-of-the-border favorites, such as tacos, sombreros, and pinatas. Here are our Top 9 Things To Do To Celebrate Cinco De Mayo With Your Dog.
9. Mexican Flag Bandana
Your dog will be ready for the fiesta in this adorable Mexican flag bandana, by TooLoud and available on Amazon. The triangle bandana measures 26"x21"x21" and will fit most dogs. The bandana mimics the Mexican flag, with red and green stripes on the sides and a white center with the Mexican seal on it. Made of a soft, yet durable fabric, the bandana adds a festive touch to your dog's Cinco de Mayo.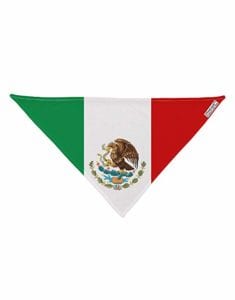 8.  Doggie Pinata
What's a Cinco de Maya celebration without a pinata? You can customize your doggie pinata and fill it with all the toys and treats your pup loves by using this bone pinata from Target. The white, bone-shaped pinata has an opening to make filling it a breeze. The cardboard construction is strong enough to hold all the goodies, yet easy to break open with a few whacks of the stick. Because this pinata doesn't come pre-filled, you can load it up with healthy treats and toys that you know your pup will love.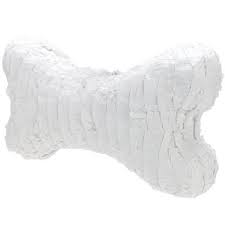 7. Margarita-Style Strawberry Smoothie
No, your dog should never consume alcohol—it is much harder for his body to metabolize it than ours. You can, however, whip up a mock-margarita for your pooch to help him get into the Cinco de Mayo spirit. Try this strawberry-banana smoothie recipe:
Ingredients
1 cup fresh strawberries, cut
1 cup banana, cut
½ cup unsweetened coconut milk, or water
4-5 ice cubes
1 single-serving container of plain Greek yogurt
Canned whipped cream (optional, and in moderation)
Blend all the ingredients in a blender until it is smooth and pour it into a glass or bowl and top with whipped cream. Although pouring it into a traditional margarita glass may look cool for your dog's Instagram photo shoot, in reality, he will just knock it over in his excitement over the mock-margarita. It is best to allow him to lap it up out of a bowl. There is less mess that way. You may be tempted to make the smoothie look more margarita-like by adding salt or sugar to the rim of the glass, however neither one of these are good for your dog and should be avoided. Save the salt for your own glass.
6. Dress The Part
Rubie's Costume Company sells a doggie serape and sombrero combination through Chewy.com that will have your pooch looking the part of a south-of-the-border hombre. The wide-brimmed, black sombrero stays on with an elastic chin strap. The brightly-colored serape—a blanket-like shawl or poncho worn by men in Mexico—fastens at the neck and also has a strap around the belly to keep the serape secure. With this two-piece costume, your pup will look bueno on Cinco de Mayo.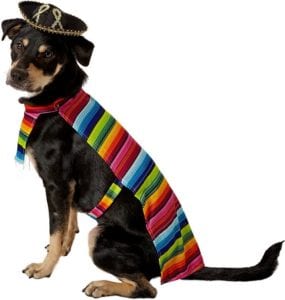 5. Cinco De Mayo Doggie Treat Pack
Rex Bites offers a dozen delicious doggie treats in a variety of cute, Cinco de Mayo-inspired shapes through their Etsy store. The handmade treats contain peanut butter, coconut oil, and garbanzo flour. They are shaped like llamas, hot peppers, cacti, sombreros, and tacos. These tasty treats will make a great addition to your dog's fiesta de Cinco de Mayo.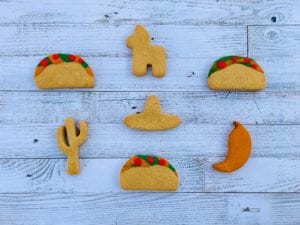 4. Grrrona Dog Toy
Believe it or not, Posh Pet Glamour Boutique sells a plush doggie toy that looks like a bottle of Corona beer—complete with a lime! Your pup can have his cerveza and chew it, too. Part of Post Pet Glamour Boutique's Muttini bar and Grill Collection, this soft chew toy is available in two sizes. The small Grrrona Beer toy is five inches long, while the large one is eight inches.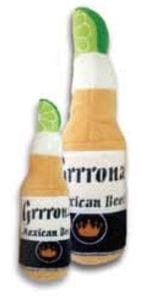 3. Cinco De Mayo Doggie T-Shirt
Your pup will look muy guapo in this adorable Cinco de Mayo doggie T-shirt by Café Press, sold on Amazon. The light-weight, machine washable T-shirt is both soft and durable. Sizes run small, though, so you will want to go up a size. The small fits teacup breeds and the medium fits dogs as small as chihuahuas. The large T-shirt is well-suited for Cocker spaniel and beagle-sized dogs, while pugs should order a XL. German shepherds, boxers, and similar sized dogs will fit the XXL shirt and the XXXL T-shirt is designed to fit mastiffs and Great Danes.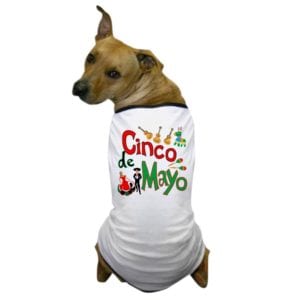 2. Independence!
Cinco de Mayo is all about freedom and independence. Take your dog to an off-leash dog park and let him run free and enjoy his independence.
1. Donate To Help Dogs Of Mexico
While the fiesta part of Cinco de Mayo is fun and exciting, you can also help celebrate the day by helping some of the dogs of Mexico. The Compassion Without Borders Mexico Dog Rescue program has, to date, rescued more than 1,500 homeless street dogs from impoverished areas of Mexico. The dogs are quarantined and treated by veterinarians in the United States, then vaccinated, microchipped, spayed or neutered before undergoing rehabilitation. When the dogs are ready, they are adopted out into forever homes. Contact Compassion Without Borders to find out how you can help with their efforts to save homeless Mexican dogs.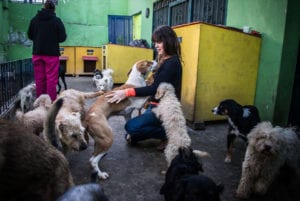 This May 5th, you and your perro will be all set for the fiesta with Top 9 Things To Do To Celebrate Cinco De Mayo With Your Dog.