This Mother's Day weekend, when you celebrate all the moms in your life, don't forget the dog moms. In fact, the day before traditional Mother's Day has been declared National Dog Mom's Day, a day to honor the special bond between a woman and her fur babies. You can celebrate that bond with these Top 10 Gifts For The Dog Mom In Your Life.
10. Customized Dog Socks
To be clear, the socks are for the human, not the dog. You can order a fun and funky pair of socks with your dog's adorable face on them. The socks are custom-made and come in a variety of colors. They are made of an elastic, fade-proof cotton polyester blend that is soft, comfortable, and machine washable. Wearing these adorable socks will be a great way for the dog mom in your life to show her head-to-toe love for her pooch.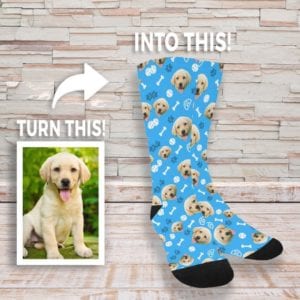 9. Dog Mom Shirt
Target sells this simple and understated dog mom T-shirt that lets the world know that the dog mom in your life is firmly on Team Dog. It is available in a range of sizes from XS to XXL. The lightweight gray fabric is comfortable and wearable. She will be the envy of the other dog moms at the dog park in this casual, yet fun T-shirt.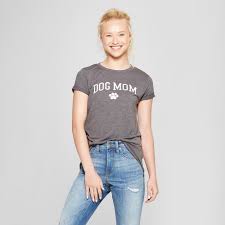 8. Matching Infinity Scarf And Bandana
The dog mom in your life can showcase the bond with her beloved dog by dressing in matching accessories. Shell of a Shot Boutique has an Etsy store that sells stylish infinity scarves for her with matching doggie bandanas for her favorite pooch. Mom and dog will be stunning in these matching accessories scarves.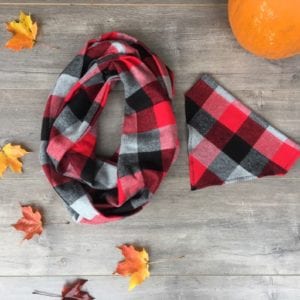 7. Your Dog's Likeness In Pillow Form
Cuddle Clones will create a customized pillow that looks almost exactly like your dog. Seriously! Each one is handmade and the crafters work from photographs that the customers send in, as well as descriptions and notes from the customers. From this, they create a plush, cuddly twin of your dog in pillow form.
6. Furbo Pet Cam
If your favorite dog mom has to spend part of her day away from her beloved pooch, then consider getting her a Furbo Dog Camera. She will be able to check in on her pup from time to time throughout the day to see what he is up to. The unit has two-way audio so you can hear your dog when he barks, and he can hear you talk to him in a soothing voice. In fact, you can set the camera up to send an alert to your smartphone any time your dog barks. You can even send a command to the Furbo to toss your dog a treat.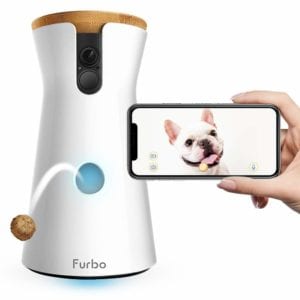 5. Matching Bling
Your favorite dog mom can let the world know who her best friend is with these dog mom/doggie matching charms. Your pup wears his half of the bone-shaped pendant as a dog tag on his collar, while your dog mom wears the other half on a necklace. Put them together and the bone reads, "Best Friends."
https://thespoiledpetstore.com/collections/dogs/products/dog-best-friend-necklace-and-matching-collar-charm
4. Pooch Selfie Stick
Does your favorite dog mom love to take selfies with her dog? If so, then she will appreciate the Pooch Selfie Stick. This smartphone accessory attaches to your device and immediately gets the dog's attention so he will look in the camera. The Pooch Selfie Stick even squeaks so your dog will pay attention to the phone and look his best for his close-up. Any dog mom who loves including her pup in her social media posts will appreciate this selfie stick.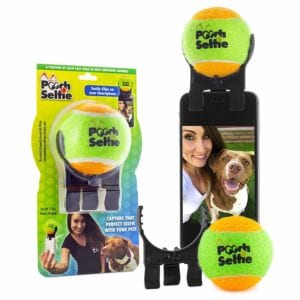 3. Doggie DNA Kit
Give your favorite dog mom the gift of information on National Dog Mom Day. With an Embark Dog DNA Test Kit, she will be able to learn more about her pup than she ever imagined. The DNA test can reveal a thorough breakdown of every dog breed that comprises her four-legged best friend. In addition, the kit can detect the risk factors for more than 160 genetic conditions. Armed with this information, your dog mom can take steps to make sure her dog stays healthy and happy.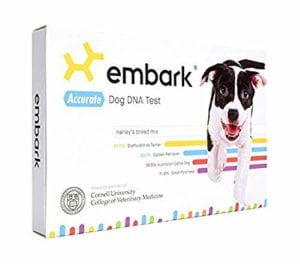 2. Dog Treat Maker
With Bake-A-Bone Dog Treat Maker, your favorite dog mom can make her own special treats for her beloved pup. This dog treat maker will allow her to make all-natural, healthy treats that her dog will love. She will have peace of mind knowing that she is giving her pooch homemade treats that are free of chemicals and preservatives. She will be able to bake her love into each one of these doggie treats.
1. A Mommy-Doggie Getaway
In honor of National Dog Mom's Day, consider giving your favorite dog mom a weekend getaway with her four-legged best friend. How would you make this possible? By doing your research on Bringfido.com. This helpful website will give you the names of pet-friendly hotels and vacation rentals in the cities you search. In addition, you can discover the names of restaurants that welcome pets. Bringfido.com includes dog-oriented events and activities for each area, too, so you can find a dog park or get dates for doggie parades and more.

For National Dog Mom's Day, we celebrate the amazing bond between women and their dogs. You can make the day—or weekend—extra special for the favorite dog mom in your life with these Top 10 Gifts For The Dog Mom In Your Life.