As Father's Day draws near, don't forgot the dog dad in your life. You can honor that special bond between man and man's best friend with a treasured gift for dad, a unique outing, or a heartfelt present for both the dog dad and his faithful companion. Here are our picks for the Top 9 Ways To Celebrate Doggy-Daddy Day.
9.  Dogfather T-Shirt By Animal World
 Here's an offer you can't refuse—a clever T-shirt by Animal World, sold at Walmart that is a canine twist to the Godfather movie logo. Made of comfortable, 100% cotton, this classic fit, short sleeve shirt is even more perfect if the dog dad in your life is a classic film buff, too.
8. Black Lab Grilling Apron By Sweet William London
 A handcrafted grilling apron, available on Etsy, is just the thing for a bar-be-cue-loving dog dad! This one has a cute black lab on it just dreaming of a dropped burger. Made of a thick, organic cotton canvas material, this apron has an adjustable neck strap for a comfortable fit. It is machine washable, so clean up is easy if there happens to be a catsup mishap or two at the grill.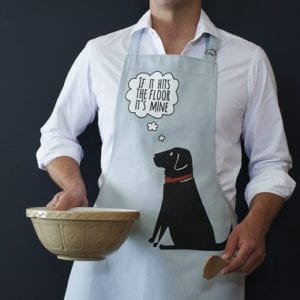 7. I Love Daddy Dog T-Shirt By Frisco
 Your pooch can show his love for the dog dad in his life by wearing this cute doggie T-shirt by Frisco, sold on chewy.com. The snug-fitting gray shirt, printed with "I Love Daddy" is made from a comfortable, breathable, cotton-poly blend. Available in six sizes ranging from x-small to xx-large, the dog T-shirt has a wide opening, so it is easy to pull over your pup's head. How adorable will it be to have the dog wear this T-shirt as he greets the dog dad in your life on Father's Day?
6.  Bag Of Dog Farts By Little Stinker
 Is the dad dog in your life a jokester? Have we got the gag gift for him! Little Stinkers, an appropriately named company, sells bags of cotton candy on Amazon that are packaged to look like a bag of dog farts. The bag even claims that all the dog farts were produced at Tale Wagging Acres, an organic fart farm. Fortunately, the cotton candy tastes more like sweet, fruity cotton candy than actual dog farts. All joking aside, Little Stinkers donates 10% of their profits from the sale of each bag of dog farts to charities that work on behalf of animals. Since dads love good fart jokes, the Little Stinker's dog fart cotton candy may be just the gag gift you didn't know you were looking for.
5. Fur Dad Phone Case By Zamira
 Tee Public sells this cute, yet masculine cell phone case, designed by Zamira, that proudly announces that the person is a fur dad. The sleek black case and bold lettering is enhanced by a few cleverly placed paw prints. You can order this phone case to fit a variety of iPhone and Galaxy models. The durable polycarbonate is both scratch and fade resistant.
4.  A Day At The Beach
 Sometimes the best gift is time spent together. Consider taking the dog dad in your life and his favorite pooch to the beach to celebrate Father's Day. Not sure which beaches in your area welcome dogs? Petfriendlytravel.com has a state-by-state list of dog-friendly beaches on their website. The detailed information should give you all the information you need to plan a daddy-doggie outing at the beach.
3.  Matching Pajamas By WoofOutWest
 Your favorite dog dad can get comfy and cozy with a pair of red plaid, flannel pajama pants, made by WoofOutWest and sold on Etsy. The best part of these pajama pants is that they come with adorable matching pajamas for his four-legged best friend. For the human, the pajama pants have an elastic waist and pockets. For the pooch, the PJs are button-down doggie shirt with a collar. The matching pajamas are available in a variety of sizes for the dog and the dog dad.
2.  Custom Golf Club Headcovers By Cuddle Clones
 Is the dad dog in your life an avid golfer? If so, then he can keep his furry friend in mind while he is hitting the links with these customized golf club headcovers that Cuddle Clones will make to look exactly like your dog. Using photographs and information that you supply with your order, the creative folks at Cuddle Clones will replicate your pooch's adorable face. Sized to fit a driver, these doggie golf club headcovers will be the next best thing to bringing your dog to the golf course with you—which is frowned upon by the greenskeepers.
1. Dog Balaclava By JIUSY
 JUISY's 3D dog balaclava with stand-up ears, sold on Amazon, will allow the dog dad in your life to look like his favorite dog while hitting the ski slopes, snowmobiling, or doing some winter hiking. It is just quirky enough to make it a fun addition to a rave or Halloween party. The polyester fabric is dust-proof and will keep the wind out, yet it is absorbent and breathable. The digital heat transfer printing process means that the image wont crack or fade. JUISY offers this dog-inspired balaclava in several different dog breeds, from Boxers and German Shepherds to Huskies and Terriers. Your dog dad will be a conversation starter wearing this unique balaclava.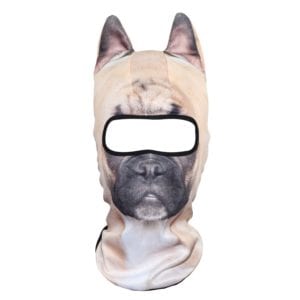 This Father's Day, celebrate the daddy-doggie bond with a dog-inspired gift or a gift he can share with his furry best friend with any of these Top 9 Ways To Celebrate Doggie-Daddy Day.