Taking your daily runs with your dog is a wonderful bonding experience. Both you and your pooch will benefit from the workouts and the time spent outdoors. You can make the runs much more enjoyable for yourself and your dog by having the right gear. From hands-free leashes to portable water bowls, you will find that your runs are much more effective with these Top 6 Dog Running Gear Products.
6. Travel Dog Bowl By Zuka
Glamourmutt.com offers Zuka travel dog bowls that are fun, whimsical, and portable. The watertight cloth bowls are lightweight enough to carry on your run, yet large enough for your dog to get a good, thorough drink. The small bowl can hold about 10 ounces of water and the large one can accommodate about 18 ounces. The Zuka travel dog bowls come in a variety of fun patterns and colors. They even have a carabineer so you can clip it to your dog's leash or to your belt. Water breaks will be quick and easy with this travel dog bowl.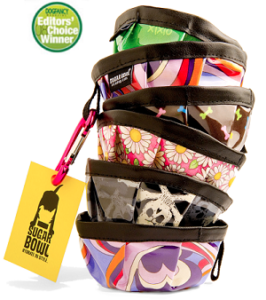 5.  Musher's Secret Paw Protection Balm By Musher's Secret
Running on trails or pavement can damage your dog's paw pads. Musher's Secret Paw Protection Balm, available on Petco.com, is designed to prevent injuries and protect your pup's paws. Just a little bit of the all-natural balm is needed to increase the moisture of the paw pads and soften rough spots. While out for a run, Musher's Secret helps give your dog's pads more traction and prevents slips. It even insulates your pup's paws from hot sand and scorching pavement.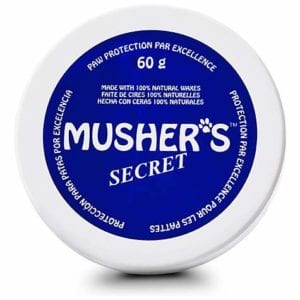 4. Grip Trex Dog Boots By Ruffwear
Do your runs take you off the beaten path? Running on rough, rocky terrain can be painful to your pup. Protect his paws with some doggie boots. Just remember that not all dog boots are created for running. Most are simply made to accessorize an outfit, therefore they are not supportive, protective, and durable. The Grip Trex dog boots, by Ruffwear, however, are especially designed for distance trail running. The Grip Trex boots are constructed of breathable mesh uppers that keep out rocks and debris while letting air in. The soles are thick, insulating, and provide additional traction. The boots fit snuggly and securely with hook-and-loop closures. The sizing guide on the Ruffwear website helps you to make sure you are getting the perfect fit for your pooch.
3. Power Bone Dog Treats By Zuke's
Just like you, your dog needs protein to fuel his run and keep his muscles strong and agile. Zuke's Power Bone treats, available on petsmart.com, are a good source of the nutrients an active, athletic dog needs. The Power Bones are made with all-natural, grain-free ingredients—chicken, pork, cranberries, chicken liver, peas, beets, celery, honey, and salt. With 28% protein, these bite-sized treats are easy to carry on your run and will give your dog the boost he needs to go the distance or can also be given before and after a long run.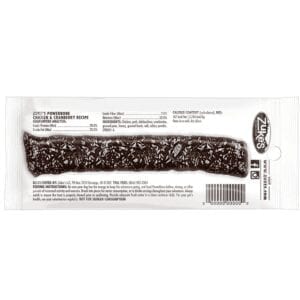 2. Portable Pet Travel Water Drink Cup With Bowl Dispenser By M&MKPet
With this pet travel water bottle by M&MKPet, sold on Amazon.com, you don't need to bring along a water bowl. The bowl is a part of the water bottle itself. Made of BPA-free silicone, this water bottle holds 12 ounces of water and has a leak proof silica gel seal ring to prevent leaks. It is simple to use and can even be operated with one hand so you can keep a tight grip on your dog's leash. The water bottle is easy to fill and easy to clean. The compact design makes it great for runs, hikes, walks, and other outdoor activities.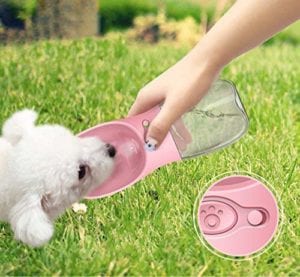 1.  K9 Excursion Running Belt By Kurgo
If you and your dog are frequent runners, then this K9 running belt will make your runs easier. The belt fits comfortably around your waist and has two sliding leash clips. You can clip any leash onto the belt for a hands-free run. The belt has much more to offer. There is a pocket with zipper closure so you can keep your wallet or cellphone with you. The pocket even has a clip that has been designed to hold your keys and keep them safe. A small portal in the pouch is ideal for dispensing doggie waste bags or for threading your headphone cord through. The K9 Excursion Running Belt even comes with a BPA-free water bottle that is held securely in place on the belt. A reflective strip helps make you more visible at night.
Every runner knows that you get a better workout if you have the right gear. That applies to running with your dog, too. If your dog is going to be your longtime running partner, then you owe it to both of you to invest in the products that will help make your runs more enjoyable and efficient. With these Top 6 Dog Running Gear products, you and your dog will be ready to hit the running trails.