You know how great a refreshing ice cream cone feels on a hot summer day? You can give your dog that same experience. It is not recommended that you feed your dog the same ice cream that you eat because his digestive system can't handle that much sugar and dairy. You can, however, make some delicious and nutritious homemade doggie ice cream that will spoil your pup during the dog days of summer. Here are our Top 6 Doggie Ice Cream Recipes.
6. Three-Ingredient Dog Ice Cream Bites
3 ripe bananas
32-ounce tub of plain yogurt
1 cup peanut butter
Blend all three ingredients together until they are smooth and pour them into an ice cube tray or popsicle mold. Freeze until solid.
5. Peanut Butter And Bacon Ice Cream Sandwiches For Pups
1 cup natural peanut butter
1 cup plain yogurt
¼ cup bacon bits
Blend the peanut butter and yogurt together until smooth. Stir in the bacon bits. Pour into a shallow pan and freeze. Using an ice cream scoop, scoop out some of the doggie ice cream and place it between two thin, flat dog biscuits. Trim off the excess ice cream and refreeze the entire ice cream sandwich until you are ready to give one to your dog.
4. Yogurt Berry Pops
1 cup plain yogurt
10 fresh strawberries, diced
20 fresh blueberries
Place the diced strawberries and blueberries in the dog treat mold or in an ice cube tray. Spoon the yogurt over the fruit and pat it down so that the yogurt fills in the spaces around the berries. Freeze for at least five hours. Pop out one of the treats for your good dog.
3. Dairy-Free Frozen Dog Bowls
12 ounces of coconut milk
1 cup natural, unsweetened peanut butter
1 cup grated carrot
1 teaspoon pure maple syrup
Blend all the ingredients until smooth. Pour into small freezable bowls with lids. Freeze uncovered for 4 to 6 hours then seal with the lids. Your dog will enjoy licking every drop out of the bowl.
2. Pumpkin Pup Ice Cream Bites
1 cup pumpkin puree
1 cup plain yogurt
½ cup natural peanut butter
Blend all three ingredients together until smooth. Pour into ice cube trays or doggie treat molds and freeze. Pop one out for a quick, refreshing treat.
1. Frozen Watermelon Surprise
3 cups cubed seedless watermelon
½ cup small, berry dog treats, such as Nurto Crunchy Dog Treats with Real Mixed Berries, sold on Chewy.com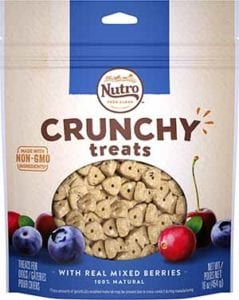 Blend the watermelon until it is liquid. Remove any seeds. Pour into popsicle molds, doggie treat molds, or ice cube trays. Poke a few berry dog treats in the watermelon liquid. Freeze for several hours.
Extra - Silicone Ice Cube Trays/Doggie Treat Molds By GYBest
You could use an ice cube tray to make all of these doggie ice cream treats or you could go a little extra—and who doesn't want to go extra when it comes to their dogs? —with a doggie treat mold. You will get two trays with GYBest's silicone doggie ice cube trays, sold on Amazon—one with paw prints and the other with bones. Perfect for making frozen treats for your pup or baked goodies, these food-grade trays are dishwasher-safe, durable and inexpensive. You can make 15 3-inch bones and 14 2 ½-inch paw prints.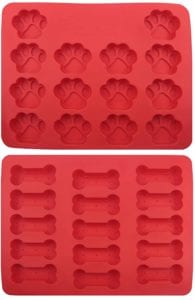 When the heat of summer hits, you can help your dog cool off with one of these Top 6 Doggie Ice Cream Recipes. There are frozen, refreshing, and most-importantly, dog safe.