With the Fourth of July right around the corner, now is the time to get your patriotic pup ready to sparkle like a firework at all the cookouts, parades, and beach parties held on Independence Day weekend. Your furry friend can look like a Yankee Doodle Dandy in stars and stripes, and red, white, and blue. In honor of America's 13 original colonies, here are our Top 13 Doggie Fourth Of July Accessories.
13. Fourth Of July Dog Bandanas By Tail Trends
 Tail Trends offers a wide assortment of patriotic bandanas on Amazon. The 100% cotton fabric is machine washable. All of the designs have stitched edges to keep them from fraying. The medium-sized bandana measures 21 by 6 inches and the large is 25 by 9 inches. Stars and stripes are a common theme to the designs, but you can also choose from patriotic hearts, peace signs, and bandanas that read "USA." A festive bandana is a quick and easy way for your dog to show that he is an All-American pup.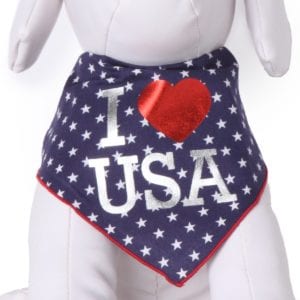 12. Happy 4th Of July Shirt By Baxter Boo
 This white cotton doggie T-shirt, by Baxter Boo, will let everyone know that your dog wishes them a Happy 4th of July. The crisp, white cotton tank-style shirt is also embellished with a spray of red and blue stars and, naturally, the American flag. You can ensure the perfect fit because this doggie t-shirt comes in seven different sizes, from x-small to 3x-large. Grass stains? Barbecue sauce? No worries. This doggie shirt is washable.
11. Patriotic Dog Collar By Wagologie
 Is your dog more understated with his holiday apparel? Then consider this adorable patriotic dog collar from Wagologie, sold on Etsy. The handmade collar features a field of white stars on a blue background and is trimmed in red. The nylon fabric and plastic clasp are durable and washable. Available in three sizes, the collar is made of nylon webbing. The patriotic design is cute enough for your pup to wear all Summer long.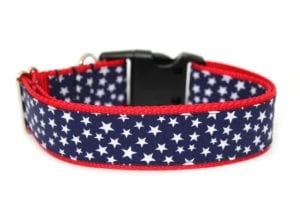 10.  Uncle Sam Dog Costume By Midlee
 Nothing will make your pooch the hit of the party like this Uncle Sam costume by Midlee and sold on Amazon. With a star-spangled top hat, coat—with stuffed fake arms—and pants, it will look like America's favorite patriotic uncle has dropped by the party or cookout to join in the celebration of the country's independence. The costume has Velcro straps and the hat has a convenient chinstrap so the outfit will stay in place as your pup makes the rounds at the Fourth of July gathering. This costume is available in several different sizes. Whether you have a Pekinese or a Great Dane, you'll be able to get the right fit for this Uncle Sam costume.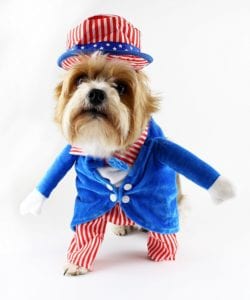 9.  USA Stars Dog T-Shirt By Pup Crew
 Let the world know that your dog is on Team USA with this sporty, All-American doggie T-shirt by Pup Crew and available on Chewy. The cotton-polyester shirt is comfortable and washable. The blue shirt features a field of white stars and red trim around neck and leg holes. The letters "USA" are proudly displayed on the back. Offered in several sizes, the USA Stars shirt is cool, comfortable, and cute.
8. Rainier Bow-Tie By Outlaw Northwest
 What we love about this doggie bow-tie by Outlaw Northwest is that it is charming and rustic-looking. The soft, brushed cotton flannel has a comfortable, wearable appearance. The faded red background is dotted with white stars, so it is patriotic in a vintage Americana way. The hand-crafted bow-tie has two loops so you can slip it over your pup's existing collar as you head out for a backyard barbecue, bonfire party, or to watch the fireworks show.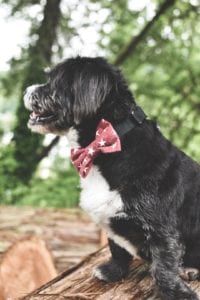 7. Red, White, And Blue Dog Collar By Three Bad Dogs
 Available on Amazon, Three Bad Dogs' patriotic dog collar is designed for small and medium-sized dogs, up to about 25 pounds. You'll want to sing, "Baby, you're a firework!" to your little firecracker when he wears this party collar. It features red, white, and blue ribbon streamers, decorated with red, white, and blue stars. This party collar is a great way for your pooch to show his American spirit.
6. Stars And Stripes Dog Collar Flower By Pup R Wear
 Your All-American pup can show off her feminine side while still being paw-triotic with this collar flower by Pup R Wear. Made of red, white, and blue fabric in a star and stripes pattern, the clever, hand-crafted flower easily slips onto your current dog collar to give your pretty little pooch a patriotic touch for the holiday week.
5.  American Flag Dog Leash By Dog Karma
 It's hard to get more patriotic than this dog leash decorated with the American flag. Sold on Amazon by Dog Karma, the leash is made of tough, durable polyester material with a metal hook. There is even a reflective logo on the leash so your dog will be more visible after dark, like when you go to your community's fireworks show. Two sizes are available and both of them are six feet in length. This American flag leash is a great accessory item to your pup's other Fourth of July attire, like collars and T-shirts.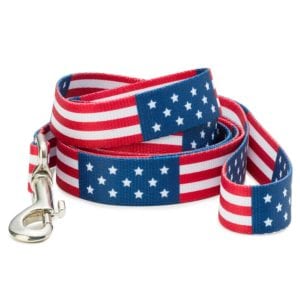 4.  American Girl Dress By Posh Puppy Boutique
 Your little girl will be all dressed up in her holiday finest and ready to make her grand entrance at the Fourth of July barbecue in this red, white, and blue doggie dress by Posh Puppy Boutique. The easy-to-wear dress has Americana details, like a star belt and a cute bow. The ruffled skirt has several layers of navy blue fabric so your pooch will feel pretty and perky. Don't worry about the practicality of this patriotic little number. It has a leash hole in the back and is cut away from the belly underneath.  
3. Matching Dog Owner T-Shirt And Doggie Bandana By Bark Rangers
 You and your pup can match for the holiday festivities without going too far over the top with this combo by Bark Rangers, sold on Etsy. For you, there is a unisex gray T-shirt with a star-spangled pocket. For your pup, there is a bandana in the same star-spangled print as the shirt pocket. Understated and classy! As an added bonus, the dog bandana is reversible. The other side had a baseball print to honor America's favorite pastime.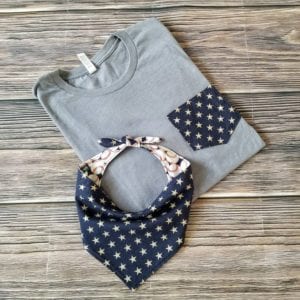 2. Star-Spangled Chambray Shirt By Dog Threads
 Got a cool, hipster dog? He can step out to the Fourth of July parade in this cute, human-like button down shirt by Dog Threads. The 100% chambray cotton is washable and made in the USA. The faded blue shirt with white star had a pointed collar and buttons. It is available in several sizes, from x-small to 2x-large. The website has a size guide to help you find the best fit for your chic and stylist pup. Dog Threads, a family-owned business, donates a portion of each sale to animal causes.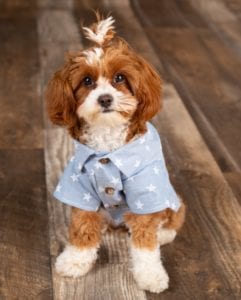 1. Uncle Sam Hat And Beard By Rubie's Costumes
 Your dog WANTS YOU…to get him this hilarious Uncle Sam top hat and beard for Fourth of July. Your Yankee Doodle poodle (or lab, husky, or cocker spaniel) will be the hit of the Independence Day parade wearing this stars and stripes top hat by Rubie's Costumes and available on Walmart.com. The hat stays securely in place with an elastic chinstrap. The chin strap, in fact, holds the white, fuzzy faux beard so your pup can look just like one of America's best-loved national mascots as he proudly struts his stuff this holiday.
With Fourth of July fast approaching, you need to start planning your dog's patriotic attire. Whether you pup will go with you to some cookouts, parties, or bonfires, enjoy a fireworks show, or join in the Independence Day parade in your town, he will want to look his star-spangled best. May we suggest one of these Top 13 Doggie Fourth Of July Accessories?