April is the month of rain, yet it is still necessary for your dog to go outside every now and then—probably more than you'd like to go. Your pooch can stay dry and look adorable in these Top 8 Doggie Gear For April Showers. From rain slickers to galoshes and umbrellas and ponchos, your pup can rock the rain while being functional and fashionable.
8. Pooch Pocket Raincoat By Ultra Paws
Pooch Pocket Raincoat, by Ultra Paws and sold on Chewy.com, is a handy little doggie raincoat that folds up into its own pocket. It is lightweight enough for you to keep it in your car or your dog's backpack so you will never be caught standing in the rain. The raincoat, which comes in sized ranging from xx-petite to x-large, completely covers the dog's back and secures under the belly and around the neck. It even has a hood to keep your dog's head dry. There is a covered slot to thread the leash through to the collar. The Pooch Pocket Raincoat comes in a fluorescent green color so your dog can easily be seen on dark and gloomy days.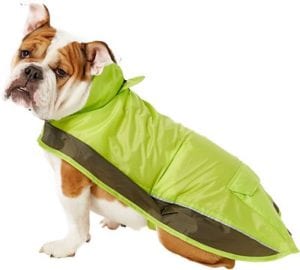 7. Rubber Dog Boots By Pawz
On the Petco website, you can find rubber dog boots by Pawz, ranging in size from xx-small to x-large. These are disposable dog boots, made of a biodegradable, environmentally-friendly natural rubber, and are sold in a 12-pack. The boots have traction control, so your pup won't slide around. They are thick enough to protect your pup's paws, yet thin enough that he cans still feel the ground—that makes him feel more stable as he walks. The boots are designed to fit on your dog's paws securely without straps, snaps, or zippers. Pawz's rubber dog boots are not only great for April showers, but for snowy days and even walks on the hot sand at the beach. A big benefit to using these boots during the rainy, muddy months is that your dog will return home with clean, dry feet so you won't have to deal with muddy floors or carpet.
6. Dirty Dog Doormat By Dog Gone Smart Pet Products
You can find this Dirty Dog Doormat on Amazon. Made of microfibers, this rug is soft, plush and super absorbent. Large enough—35 by 26 inches—to protect your floors from the muddy paws of even big dogs, the Dirty Dog Doormat is brown in color so it camouflages dirt and mud until you can toss it in the washer. The back of the doormat is lined with grippers, so it won't slip, even when it is soaking wet and being used by a squirming pup. In fact, you'll will want to use this rug for more than just a doormat. It can be used in your dog's crate, in the back of your car, and underneath your dog's water dish.
5.  Mudbuster Paw Cleaner By Dexas
Bed Bath and Beyond carries the Dexas Mudbuster Paw Cleaner, available in three different sizes: petite, medium, and large. This paw cleaner is shaped like a cup or tumbler with the inside lined with silicone bristles. You can insert your dog's paws, one at a time, into the Mudbuster Paw Cleaner and give it a gentle twist. The bristles do all the work, removing dirt, mud, and debris to keep your pooch's paws tidy. Afterwards, you can run it through your dishwasher to thoroughly clean it. You can purchase this product in one of three colors: pink, blue, or green.
4.  Puppy Dog Umbrella Leash By LESYPET
Look for this clever combination dog leash and pet umbrella on Amazon and you will be all set for rainy day walks. The transparent umbrella lets you keep an eye on your dog. The leash chain under the umbrella is long enough for your dog's comfort, but short enough to keep your pet under the protective canopy of the umbrella. The ergonomically-designed handle is constructed out of environmentally-protected plastic and is so durable it is practically unbreakable. The Puppy Dog Umbrella hangs to dry and folds up to an easy-to-carry size.
3.  Candy Colors Rubber Rain Boots For Dogs and Puppies By Pesp
Amazon offers these adorable, colorful rubber rain boots for dogs. Available in five different sizes and five different colors, these little boots are made using environmentally-friendly PVC material that is non-toxic, waterproof, and durable. They are also soft and flexible enough that your pooch will be comfortable wearing them as they prance in the puddles. The rubber boots are held securely in place with Velcro straps to tighten the boots around the dog's ankles. Additionally, the soles of the boots are slip-proof.
2.   "Fly & Dry" Waterproof Dog Rain Jacket By Think of the Floofs
For a traditional rain slicker look for your pooch, look at the "Fly & Dry" Waterproof Dog Rain Jacket. This product is available in the classic yellow, as well as blue, red, and camo. Sold through Think of the Floofs, this little doggie jacket combines waterproof material with lightweight, breathable mesh so it is as comfortable as possible for your pup. You can order the "Fly & Dry" jacket in one of six sizes, ranging from x-small to xx-large. Other features of this rain jacket include a back flap that can open for your dog's tail, a leash attachment, reflective trim for maximum visibility, and elastic leg bands so the jacket stays in place.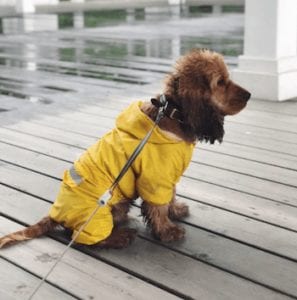 1. Dog Raincoat All-Inclusive Pet Poncho By RC Pet Products
RC Pet Products sells their combination rain hat, umbrella, and rain poncho ensemble for dogs on Amazon. Although it may look a bit comical on your dog, the round, flared, umbrella-like poncho keeps the rain drops from falling on the head of your pup. The bright yellow color is reminiscent of a traditional rain slicker.
When April showers start raining down on your pooch, he will be ready to weather the storm with these Top 8 Doggie Gear For April Showers. From rain boots to ponchos and slickers to umbrellas, your dog will stay dry throughout the rainy season.