May the Fourth be with you—and your dog! Star Wars fans look forward to May 4th every year so they can celebrate their favorite movie franchise. Your dog can be the Rogue One that gets his Jedi jive on with toys, costumes, and accessories that will make him the envy of your cosplay friends. The Force is strong with these Top 7 Star Wars-Inspired Items For Your Dog.
7.  BB-8 Plush Toy By Star Wars
The faithful, yet timid android, BB-8 is a favorite non-human character in Star Wars: The Force Awakens and Star Wars: The Last Jedi. Your favorite, four-legged non-human will love this plush dog toy in the likeness of BB-8. This toy is 4.8-inches long and made with printed canvas fabric and reinforced stitching to improve its durability. There is even a squeaker ball inside the toy to entertain your dog. The BB-8 plush toy, available on Amazon, is one of a collection of Star Wars dog toys.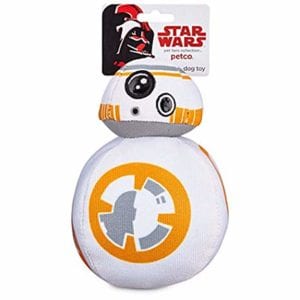 6. Bantha Dog Costume By Rubie's Costume Company
Your dog can totally get into character as one of Tatooine's domesticated mounts called Banthas. This complete Bantha dog costume by Rubie's Costume Company—a company known for producing high-quality costumes—is constructed out of soft, yet durable flannel material. The Bantha's prominent spiral horns are stuffed with fiberfil so they maintain their shape. Atop the costume is a 13-inch tall Tusken Raider to help complete the look. The costume might look detailed and complex, but you can easily dress your dog in it and fasten it with a few simple Velcro closures.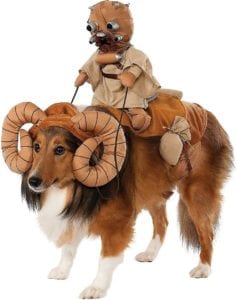 5. The Force Is Strong Pet ID Tag By AwPaws
Let everyone know how much your dog loves the Star Wars franchise with this Star Wars pet identification tag. The round tag is designed to look like the darkness of space with the iconic quote from Star Wars that says, "The Force is Strong With This One." Beneath this quote, you can personalize the tag with your dog's name and your contact phone number. Sold on AwPaws.com, this fade-proof, metal ID tag is available in three sizes—1-inch, 1.25-inches, and 1.5-inches.
4. Chewbacca Stick Dog Toy By Star Wars
It's true—your dog can chew on Chewie! This Chewbacca stick toy for dogs, by Star Wars and sold on Amazon, is an officially-licensed Star Wars character product featuring our favorite Wookie. This toy is a foot long and designed to be stick-like so your dog can have fun retrieving it for you, as well as chewing on it.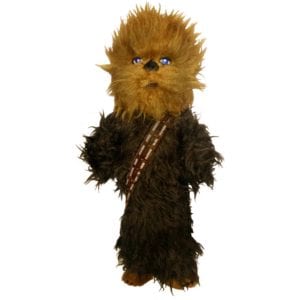 3. Jedi Dog Costume By Rubie's Costume Company
Entirelypets.com sells this complete Star Wars Jedi costume for dogs. Made by Rubie's Costume Company, this is a three-piece costume that will transform your pet from an ordinary pooch to a heroic member of the order of Jedi, the ancient organization of mystics, knights, scholars, senseis, and meritocrats that are a primary focus of the Star Wars movie franchise. This costume comes with a hooded cloak, belt, and shirt.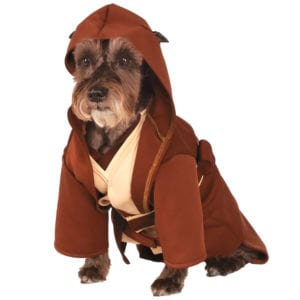 2. Storm Pooper Doggie T-Shirt By Ebenezer Fire
Who doesn't love Star Wars puns? This adorable doggie T-shirt, which features a large image of a Star Wars stormtropper, bares the words "Storm Pooper" in vinyl letters. The 100% cotton fabric is washable and wearable. Available in seven sizes from XS to 3XL, this Storm Pooper T-shirt is available through Amazon.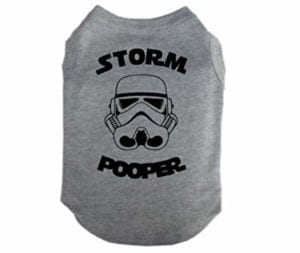 1. Dog R2-D2 Costume By Star Wars
Your dog can dress like the spunky, beeping android from the original Star Wars saga with this officially-licensed R2-D2 doggie costume. Ideal for Halloween, sci-fi conventions, and Star Wars watch parties, this two-piece costume includes a vest and a hat made of soft polyester. Wearing this cute costume, your pup will definitely be the droid you're looking for!