Cleaning up after your dog is the least pleasant part of dog ownership. Fortunately, there are plenty of tools on the market to help you make this task a little more bearable. From pooper scoopers to doody bags to poo gloves, these are the Top 9 Coolest Doggie Doody Removal Products.
9. 100% Compostable Dog Waste Bags By BioBag USA
 Picking up and disposing of your dog's poo is the responsible thing to do as a pet owner. It is extremely inconsiderate to leave your doggie's doody where others can step in it. It is also responsible to use dog waste bags that are good for the environment. BioBag USA's 100% compostable dog waste bags, sold at Petco.com, are made from a resin, called Mater-Bi, that is derived from vegetable and plant oils. BioBag USA imports the Mater-Bi from Italy, but the manufacturing process takes place in the United States. The bags are an environmentally-sound alternative to plastic bags because they have been designed to decompose quickly. The dog waste bags are sold in a 50-count pack and are black in color to keep the contents of the bags out of view.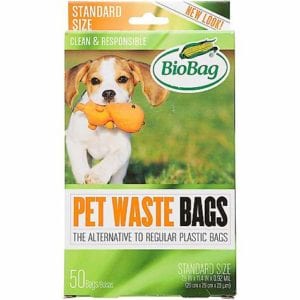 8. Dog Waste Removal Rake By Four Paws
 One of the problems with traditional pooper scoopers is that it can be difficult to remove the entire mess on grass. Four Paws makes a dog waste removal rake with a claw that is designed to dig into tall grass and extract all the doggie doo. The rake is made of a rust-resistant metal and has a rubber grip for ease of use. The handle is almost 30 inches long, so you won't need to bend over to do the cleanup. The dog waste removal rake is better suited for backyard use than for use during walks or trips to the dog park because of its length.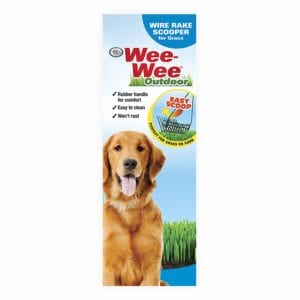 7. Leash Attachment Poop Bag Holder By Tuff Mutt
 This poop bag holder, available on Chewy.com, attaches to most standard leashes—even retractable ones. Designed to fit snugly and be unobtrusive, the poop bag holder makes it convenient to walk your pooch with all the dog waste bags you need right at your fingertips. A dispenser helps you to pull out just one bag at a time and the zipper opening makes it easy to reload when you run out of bags. This leash attachment poop bag holder, available through Chewy.com, is made of durable, weatherproof material. The bag itself is roomy enough for a few extra items you may take on your walk, like some doggie treats and some money. A D-ring at the end of the holder is a convenient place to hold your keys, too. When you buy this product, it comes with one roll of doggie waste bags.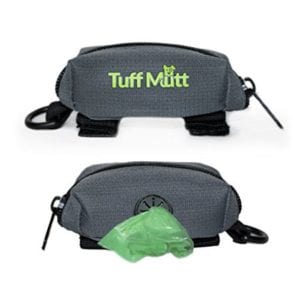 6. Shmitt Poo Gloves Dog Waste Bags By Drymate
 Available on Amazon, the Shmitt Poo Gloves let you get down and dirty without the dirty part! Simply slip on one of the durable, heavy-duty plastic, one-size-fits-all gloves and you can thoroughly pick up what your dog has left behind. Because the glove has individual fingers, you will have the dexterity and range of motion needed to complete the task quickly and completely, leaving no traces behind. The Shmitt Poo Glove has an over-sized cuff so you can easily turn the glove inside out and dispose of the poo. You won't need to carry around a cumbersome scoop with the Shmitt Poo Gloves.
5. Doody Digger Pooper Scooper By Doody Digger
 The Doody Digger Pooper Scooper lets gravity help you clean up after your dog. Made of a non-stick, recycled polyethylene tube, the pooper scooper has a curved shovel end at the bottom. You simply attach a waste bag securely to the top and then use the curved bottom to scoop up the poo. Tip the scooper upside down and the poo slides neatly into the bag. You can clean up after your dog without bending over or getting your hands dirty. There is even a convenient snap to hold the filled bag until you find a trash can. The Doody Digger cleans up easily by flushing it out with a garden hose.
4. Complete Dog Poo Pack By Bodhi Dog
 This is a total doggie clean-up kit that includes a 24-inch pooper scooper, dog waste bags, and a waste bag holder. Sold by Bodhi Dog through Amazon.com, this dog poo pack gives you everything you need to get started, making it ideal for new puppy owners. The scooper is made of a durable, yet lightweight material with an ergonomically-designed handle and trigger. The spring-loaded trigger allows you to remotely grasp the doody in the non-stick claw and hold it tight until you can deposit it into a dog waste bag. Bodhi Dog is a family-owned and operated Texas-based business that is committed to serving dog lovers with exceptional products.
3.  Poop Bag Carrier By Wild One
 You will look fashionable and stylish as you pick up doggie doo with this chic dog waste bag holder by Wild One. Made of a soft, supple material and available in six colors—gray, black, blush, tan, navy, and red—Wild One's poop bag carrier comes with a roll of ten eco-friendly dog waste bags. The carrier attaches securely to a leash or tote. The opening of the bag carrier has a serrated edge to make it easier to separate a poop bag when you need it and opens wide so you can easily reload the bags.
2. Catch-A-Poo By Catch-A-Poo
 With Catch-A-Poo, you can clean up after your dog before the poo even hits the ground! You simply attach a dog waste bag of any size to the end. The long, durable handle is 19 inches long and extends to 34 inches so you won't even have to bend over. All you need to do is watch your dog and when he assumes the position, then you just need to hold the bag under the pooch's tail and catch the droppings. With the Catch-A-Poo, you can remove all of the doody at once with no mess on the ground.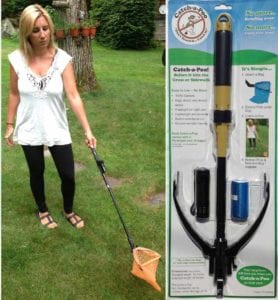 1. Skooperbox By Skooperbox
 Skooperbox is an innovative and eco-friendly alternative to dog waste disposal bags. Instead of the traditional plastic bags, the Skooperbox is a biodegradable cardboard box made of 100% recycled materials. The box folds like a take-out box and has a handle that can attach easily to a leash, backpack, or belt loop. The box is thick enough to keep its contents secure and out of sight. Once it is done and discarded, the box, along with its contents, quickly decompose so they don't fill up a landfill.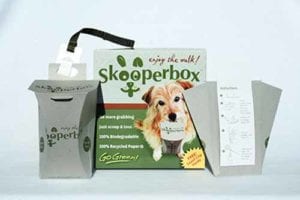 The responsible thing for dog owners to do is to clean up the messes that their dogs make when they do their business. No one likes to handle doggie doo. It is a messy, nasty, smelly job. You can make your job easier by using one of these Top 9 Coolest Doggie Doody Removal Products.