When buying hiking and outdoor gear for yourself, you look for good, quality products that are functional and durable. The same should apply for your dog. If your dog is your faithful hiking companion, then you will find that having the right gear will make your outdoor adventures a more enjoyable outing for your pup. Whether your hikes are short and urban or long, challenging and rural, you will appreciate our picks for the Top 8 Outdoor Gear For Your Dog.
 8.  Blockerlite Dry Sacks By SealLine
 Your dog's food could get wet and ruined if it is not kept in a water-tight, sealed container during your camping, canoeing, or hiking trip. The Blockerlite Dry Sacks by SealLine are much more durable than plastic storage bags, yet they won't add extra weight to your pack. Available in several different sizes, the bags are washable and reusable.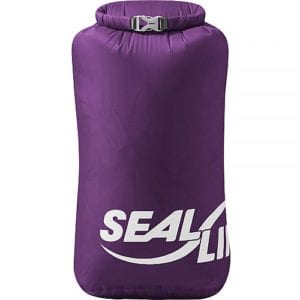 7.  LED Rechargeable Dog Collar By Pet Industries
 Pet Industries sells a rechargeable LED collar on Amazon that will help keep your dog visible in the dark. This collar has a metal buckle and D-ring and is made of strong, durable material while still being comfortable for your dog to wear all day long. You are able to charge the collar's battery through a USB port. The battery holds up to 7 hours of power for every hour on the charger so, depending upon use, the LED light can last for a week or more. The Pet Industry LED collar is available in 4 different sizes and 7 colors. The LED has 3 brightness settings.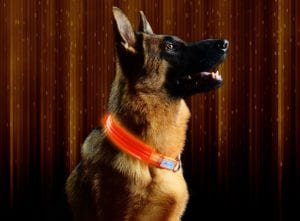 6. Collaps A Bowl By Kurgo
 You will need a bowl for your dog's food while you are out hiking for the day or for the weekend. The Collaps A Bowl by Kurgo offers a great solution. The bowl—made from dishwasher-safe, BPA-free silicone—folds to less than an inch thick. When it is popped up, it becomes 3 ½ inches tall and holds up to 24 fluid ounces. The bowl is lightweight and has a spot for a carabiner so the dish can be clipped to a leash, backpack, or belt. It will be handy when you stop for a quick break during your hike.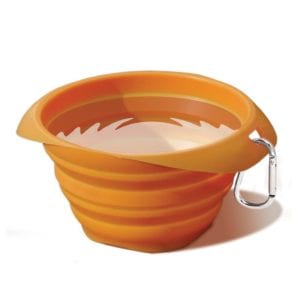 5.  Wilderdog Reflective Leash By Wilderdog
 Wilderdog leashes are built for adventure-seeking dogs. The leashes are made using the same rope that rock climbers use so you can count of them being strong and durable. Interwoven throughout the material, however, are four strands of reflective tape so the leash is visible in low light or in headlights. Available in five-foot and ten-foot lengths and a variety of colors, the Wilderdog leashes have large, metal, locking carabiner clips. The American-made Wilderdog leashes come with a lifetime warranty.
4.  Noble Camper 2-In-1 Hiking Dog Bed and Doggie Sleeping Bag By Noble Camper
 Your dog may get dirty and stinky during your outdoor adventures. Are you sure you want to share your sleeping bag with him? You won't have to if you get him his very own doggie sleeping bag, like this ultralightweight travel dog bed that converts into a sleeping bag. The Noble Camper dog bed is made of poly-fill insulation to keep the cold from the ground from disturbing your dog's slumber. The nylon outer material is water-resistant, washable, and quick drying. The entire bed can be rolled up to fit into its convenient carrying case, so it is not too cumbersome to carry on your hiking and camping trips. In fact, it can fit into your dog's backpack so he can carry his own weight.
3. Dog Water Bottle With Attached Bowl By Tiovery
 Why carry a separate water bowl and water bottle on your outdoor adventures? Available on Amazon, Tiovery's dog water bottle with attached bowl has a unique design. The food-grade, BPA-free silicone drinking bowl wraps around the water bottle when not in use but can easily flip up to form a leaf-shaped bowl around the opening. The bottle holds 20 ounces of water and has a wide opening for easy fill-ups. Best of all: the seal is tight and secure so no water will leak into your backpack.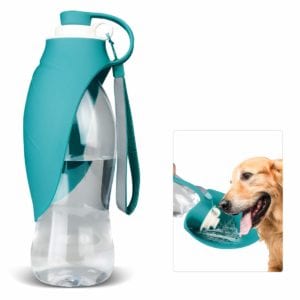 2. Explorer Pup Tent By Alcott
 Your dog can have his own camping accommodations with this appropriately named pup tent by Alcott and sold through the Pet Guys. The doggie tent is lightweight—only about a pound and a half—and is easy to assemble. No more wet dog odor in your tent. Your pooch will be safe and protected from the elements in this 42-inch by 32-inch tent that is roomy enough to fit a dog bed. Made of quick-drying nylon, the pup tent has a wide-zippered opening and three mesh windows to allow air for flow through the tent.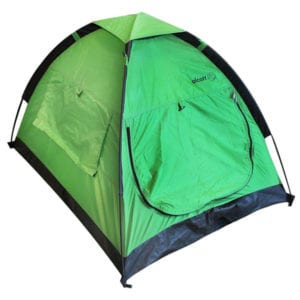 1. Ruffwear Approach Dog Pack By L.L. Bean
 Your four-legged hiking buddy can easily carry his own load with his own backpack that doubles as a harness. The pack comes in two sizes—for medium and large dogs—and has adjustable straps to ensure a snug fit. On either side of the pack, there are two carrying pouches that are roomy enough to hold food and treats, water bottles, collapsible bowls, doggie waste bags, and more. The pouches are watertight and close securely with a zipper. At the top of the backpack, near the metal leash ring, there is a handle that comes in handy if your dog needs your help to climb a steep rock or riverbank. Lastly, the dog pack comes in a bright orange color so your dog is highly visible during the hike.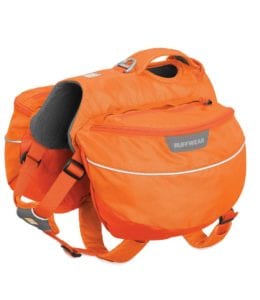 Experiencing the great outdoors with your four-legged best friend is one of the best Summer adventures you two can share. Your camping or hiking trip will be more enjoyable with the right gear for both you and your dog. With these Top 8 Outdoor Gear For Your Dog, you will be all set for a Summer full of wooded trails and starry nights.