Tibetan Terriers are known for their sensitive and affectionate personalities when with their families and is one of the reasons these dogs have gained such popularity. They are loving and friendly with those they bond to. They can still be somewhat reserved around strangers but are almost never aggressive. Though they are energetic and lively,…read more below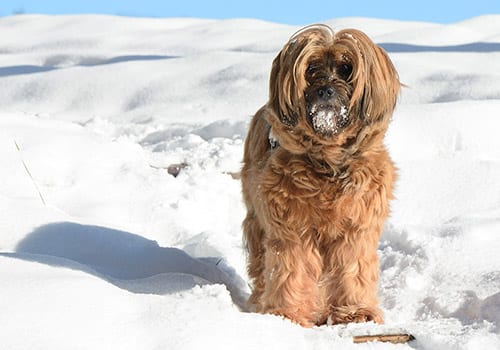 Tibetan Terrier Personality
Tibetan Terriers are known for their sensitive and affectionate personalities when with their families and is one of the reasons these dogs have gained such popularity. They are loving and friendly with those they bond to. They can still be somewhat reserved around strangers but are almost never aggressive. Though they are energetic and lively, their size makes them suitable for a variety of living situations, including apartment living. They do very well with other pets and children in the home as well, especially if raised alongside each other. These laid back dogs can be a great addition to any loving home looking for a lovable companion.
Tibetan Terrier Characteristics
Tibetan Terrier History & Lineage
The Tibetan Terrier is a very ancient breed that originated with the Tibetan monks, who would keep the dogs not only as companions, but as charms for good luck, watchdogs, and for the job of retrieving items that might have fallen along the mountain sides. These dogs were originally never sold, but were only given as gifts by the monks as a sign of promoting good fortune. Their breeding stock was only made up of a few foundation dogs, and the process was maintained for a very long time. This resulted in a dog that changed little in appearance for most of their history. Eventually Tibetan Terriers given as gifts made their way to Europe, where a new foundation stock was bred. In 1924, the first litter of Tibettan Terriers was born in Europe, and a kennel was established dedicated to breeding these dogs. Originally registered as the Lhasa Terrier, it wasn't until 1930 that the Kennel Club of India would change the name to the Tibetan Terrier. The breed would arrive in the U.S. in 1956. Quickly gaining popularity among American breeders and fanciers, they were officially recognized by the American Kennel Club in 1973.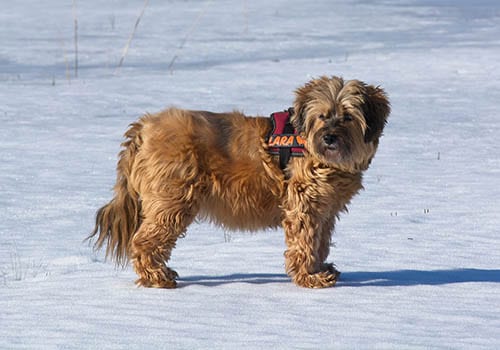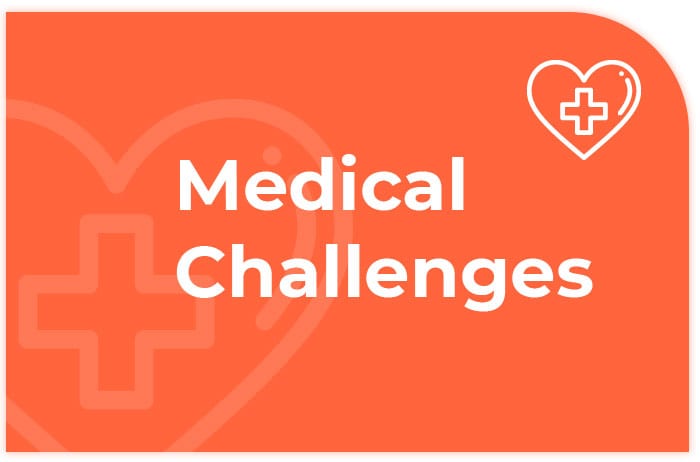 Tibetan Terrier Medical Challenges
Tibetan Terriers are considered to be a predominantly hardy and healthy breed, though they can still experience certain issues. It will be important to check with the breeder for any health screenings they have done on breeding stock to give you a better idea of what to expect. Annual checkups with your veterinarian will also play an important role in helping you to keep on top of your dog's health, as well as to promptly treat any issues they may face. The National Breed Club also suggests that you speak with your vet about hip and ophthalmologist evaluations for your Tibetan Terrier, as well as PLL and NCL DNA tests. Always be sure to contact your vet right away if you have any serious concerns for your Tibetan Terrier's condition. Your pup will be grateful for all the loving care that you provide for them, and they will be sure to find plenty of ways to show it that will continue to bring joy to the home.

Lorem ipsum dolor sit amet, consectetur adipisicing elit, sed do eiusmod tempor incididunt ut labore ipsum
Lorem ipsum dolor sit amet, consectetur adipisicing elit, sed do eiusmod tempor incididunt ut labore et dolore