The St. Bernard is well known for being a gentle giant among breeds. They will still need proper socialization and guidance to make sure that they are not tempted to take advantage of their great size,…read more below
The St. Bernard is well known for being a gentle giant among breeds. They will still need proper socialization and guidance to make sure that they are not tempted to take advantage of their great size, but they are typically even tempered and kind. These dogs can do well in a variety of homes, as long as they have enough space to move around in. Understandably, they do best in spacious homes with large, well fenced yards. St. Bernards can be suitable for either a single owner or a growing family. They are gentle and patient when it comes to other pets or children in the home, making them terrific companions for anyone looking for a confident, kind hearted companion or working buddy
St. Bernard Characteristics
St. Bernard History & Lineage
The St. Bernard, also called Alpine Mountain Dogs or Alpine Cattle Dogs, may be best known for their role as livestock protectors and rescue dogs in the French and Swiss Alps. However, they have been used for many other duties throughout their history, including herding, hunting, and as draft dogs. Their ancestors are believed to be Molosser type dogs that were brought to the area by the ancient Romans, and are internationally recognized as being a Molossoid breed. The earliest known evidence of the St. Bernard as we know them today come from records kept by local monks who were able to describe the breed as far back as the end of the 17th century. Many of the St. Bernards used for breeding were killed during rescue missions during exceptionally harsh winters from 1816 to 1818. In order to revive their declining numbers, Newfoundlands were added to the line during the mid to late 19th century. However, this would also see a decline in their use as rescue dogs, since the longer fur they inherited would freeze and cause complications in the cold climate. In 1884 the Swiss St. Bernard Club was founded, and became the first breed to be entered in the Swiss Stud Book the very same year. In 1888, a breed standard was approved and the breed was officially recognized by the AKC in 1885.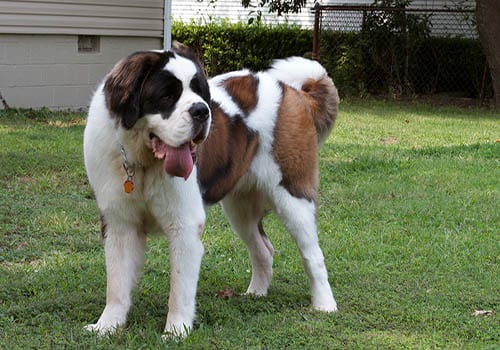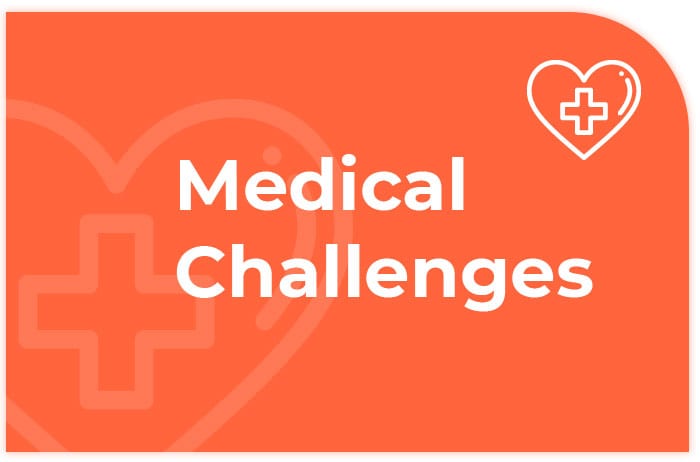 St. Bernard Medical Challenges
While the St. Bernard is considered to be a predominantly healthy breed, they are still susceptible to certain health conditions. Some of these dogs may experience issues such as joint dysplasia, heart disease and issues with their eyes. Like all deep chested breeds, they are also more prone to bloat and stomach torsion. Be sure to check with the breeder for any health screenings done on breeding stock to give you a better idea of what you can expect for your St. Bernard. Annual checkups with your veterinarian will also help you keep on top of your dog's health, as well as to promptly treat any issues they may experience. The National Breed Club also suggests that you speak with your vet about ophthalmologist evaluations, cardiac exams and degenerative myelopathy DNA test, as well as hip and elbow evaluations to better help you track your St. Bernard's health. Always be sure to contact your vet right away if you have any serious concerns for the condition of your pup. They will always be grateful for all the loving care that you provide, and they will be sure to find plenty of ways to show it that will continue to bring joy into the home.

Lorem ipsum dolor sit amet, consectetur adipisicing elit, sed do eiusmod tempor incididunt ut labore ipsum
Lorem ipsum dolor sit amet, consectetur adipisicing elit, sed do eiusmod tempor incididunt ut labore et dolore