Scottis Deerhounds are known for being sensitive, affectionate dogs and powerful runners. These dogs love to run and gallop around when outdoors, but they are typically calm and relaxed when indoors as long as they are getting the exercise they need each day. They love to have playmates and do well with other dogs that they can play with…read more below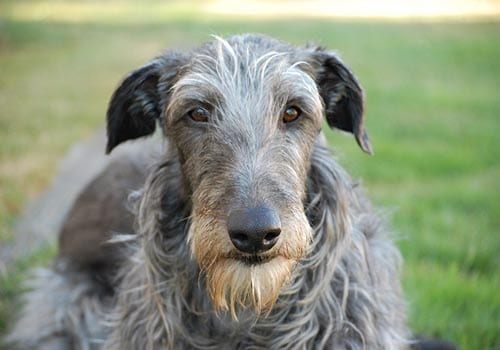 Scottish Deerhound Personality
Scottis Deerhounds are known for being sensitive, affectionate dogs and powerful runners. These dogs love to run and gallop around when outdoors, but they are typically calm and relaxed when indoors as long as they are getting the exercise they need each day. They love to have playmates and do well with other dogs that they can play with. They will also get along well with children in the home, though their size can be somewhat intimidating. Although these dogs need plenty of space to run and move around in, those living in apartments can still keep these dogs healthy and happy as long as they can provide them with an outdoor space to run in and plenty of opportunity to do so.
Scottish Deerhound Characteristics
Scottish Deerhound History & Lineage
The Scottish Deerhound is a very old breed and is likely descended from dogs that existed before written history. As the name suggests, these dogs originated in Scotland where they were used to work and hunt in the Scottish Highland glens. Up through the 19th century, Scottish Deerhounds were predominantly used to hunt red deer. They remained a popular choice for this job until the turn of the 20th century, when hunting in the area became less prevalent. Although they were mostly bred and kept by nobility, commoners would also breed and raise them whenever possible. By the 20th century, these dogs were becoming less popular. With the larger noble estates being split into smaller estates for sporting purposes, dogs who could course prey over long distances were no longer necessary and were mostly replaced with tracking breeds like Collies. After this decline in popularity among hunters, a number of fanciers began breeding these dogs for show, and continued to preserve the breed.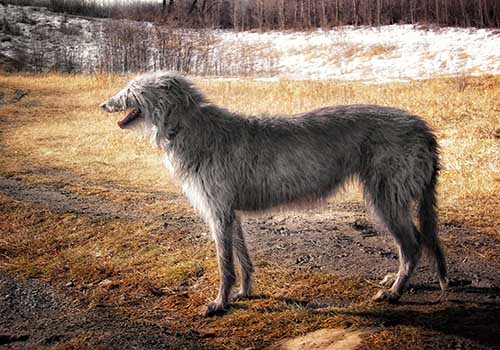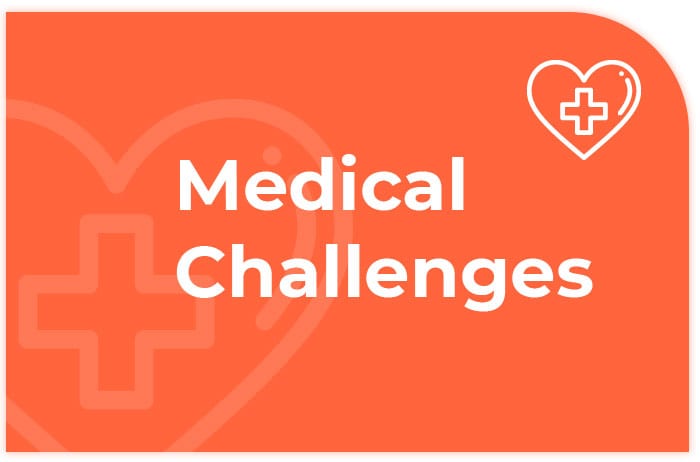 Scottish Deerhound Medical Challenges
The Scottish Deerhound is a predominantly healthy breed, though they are more prone to certain conditions that other breeds. Like most hounds, these dogs can be hypersensitive to certain drugs, such as anesthesia. They are also at a higher risk of bloat and stomach torsion than other breeds. Annual checkups with your veterinarian will play an important role in helping you to keep on top of and treat any health problems your dog may encounter. The National Breed Club also suggests that owners speak with their vet about cardiac exams, bile acid tests and factor VII DNA tests to help you better understand and ensure the health of your Scottish Deerhound. Your pup will be grateful for all the loving care that you provide for them, and they will be sure to find plenty of ways to show it that will continue to bring you joy.
Lorem ipsum dolor sit amet, consectetur adipisicing elit, sed do eiusmod tempor incididunt ut labore ipsum
Lorem ipsum dolor sit amet, consectetur adipisicing elit, sed do eiusmod tempor incididunt ut labore et dolore