Humans can't wait for Fourth of July so they can celebrate America's independence with backyard cookouts and fireworks. For your dog, however, Fourth of July is a day—or weekend—filled with anxiety-producing loud noises, strange flashing lights, crowds of people, and tempting people food. Statistically, Fourth of July is the number one day when dogs run away or get lost. It is also a time when veterinarians see an uptick in injuries and illness. You can take some steps to ensure that your pup sails through the Independence Day holiday like a champ. In honor of our 13 original colonies, here are our Top 13 Dog Safety Tips For Fourth Of July.
13.  Keep The Off Off Your Dog
 If the mosquitoes are out in full force during your holiday celebration, then you naturally pull out the Off, or another brand of bug repellent. But before you spray down your pup, make sure the product you are using is safe for dogs. The bug spray we humans use contains DEET, a chemical that is effective at keeping the mosquitos away, however, it can be toxic to dogs. DEET can cause irritation to your dog's skin, but the bigger problem comes when your dog licks the spray off his fur. Ingesting the DEET can lead to vomiting and seizures. Instead of Off, try a product like Vet's Best Mosquito Repellent that is DEET-free and formulated for dogs.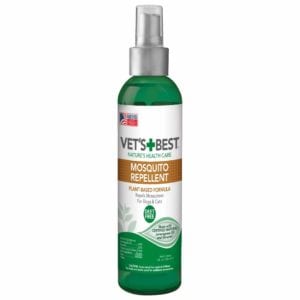 12.  Paw-Attention To Your Pup's Feet
 It is almost always hot on Fourth of July. It is in July, after all. If your holiday celebration includes a trip to the beach or an Independence Day parade, then pay close attention to your dog's paws. The scorching hot sand or sidewalks can burn the pads on a dog's feet fairly quickly. In our flip flops and sandals, we may not realize just how toasty the pavement or beach can get. Move to the grass whenever you can and try a product like Musher's Secret that protects the paws and acts like a barrier to the heat.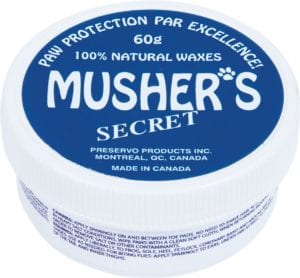 11.  Dogs Don't Glow
 Glow sticks, and the necklaces made from the glow stick material, are popular around the Fourth of July holiday. Kids love them, however the chemical that is inside them—the stuff that makes them glow—can be harmful to dogs. The good news is, the stuff tastes really bad, so most dogs immediately stop chewing on the glow stick as soon as they get a taste of the stuff on the inside. If you have a young pup going through the chewing stage—especially a tiny one that doesn't weigh much—the glow stick chemical could cause liver damage. Keep glow sticks away from dogs and ask the kids to try not to leave them where a curious pooch can find them.
10.  Painful Sparklers
 Sparklers are everyone's favorite on Fourth of July. We often wait until it is dark enough for the sparklers to make their biggest impact and then casually toss the wire stick aside when the sparks have died. Those wires, however, are really, really hot. Your dog can't see them in the dark and may step on one, burning his paw. The heat is enough to cause blistering and serious injury. Designate an adult with a metal bucket or coffee tin to collect the sparkler sticks from the kids when they are done. That way, the superheated sticks can cool down and be thrown away.
9.  No Hot Dogs For Your Hot Dog
 Fourth of July and backyard cookouts go hand in hand. While you are grilling up your hot dogs and brats, it might be tempting to let your dog have a few bites. After all, it is a special occasion. But table food is no good for dogs no matter what the date on the calendar says. Make sure your pup's food bowl is filled with his own food and ask your guest to refrain from sneaking bits of table food to your dog. It could upset his stomach and lead to vomiting and diarrhea. More serious problems could arise, too, such as an intestinal blockage or pancreatitis. Your best bet is to serve the people food to the people and the dog food to the dog.
8.  No Beer-Guzzling Dogs
 Around the Fourth of July is when veterinarians see more cased of alcohol poisoning in dogs. Unfortunately, some people think it is funny to give a dog beer or other types of alcoholic beverages, especially when they have had a few themselves. Intoxication can cause respiratory failure, coma, and even death in dogs. They simply cannot metabolize the alcohol like humans can. Keep a water bowl handy for when your dog gets thirsty and remind your friends to keep the beer away from your pup.
7.  A Dog-Free Firework Show
 Your dog may be used to going places with you, however, he should skip the firework show and stay at home. This is one place you should go without him. First, he may become anxious in the crowds of people. Then, when the fireworks start, he may be scared and confused, with no place to hide. He may react by cowering, trying to run away, or he may howl and bark. He almost certainly won't enjoy the show like you will. Trust us, he won't feel sad and left out if you keep him home during the fireworks show—he will be grateful to be in a quiet and familiar place where he knows he is safe.
6.  Stay Indoors
 Does your neighborhood typically celebrate Independence Day with lots of firecrackers, bottle rockets, and other fireworks? If so, then you will probably want to keep your dog inside the house as much as possible. The sudden, loud noises could spook him and cause him to dash out of your yard. He could go into the street and get hurt or become disoriented and lost. During the Fourth of July holiday, be sure your pup has access to his safe spot—his dog bed, crate, or other place where he feels secure. If your pup stays indoors, then his anxiety levels will decrease, and you'll have peace of mind knowing that he is safe.
5. Don't Leave Him In A Car
 NEVER EVER LEAVE A DOG IN A PARKED CAR. Ever. No matter what. No matter if you brought him to a festival and then found out it was not pet-friendly. No matter if your dog was misbehaving at a party. No matter if you are just going to dash into the store for a quick moment. Never. Temperatures inside a parked car can soar to more than 120-degrees in just minutes, even with the windows cracked. If there is even the most remote possibility that you may have to leave your dog in the car, then just don't take him in the first place. Leave him at home where he will be safe, and he won't end up a statistic.
4.  White Noise
 All the firework noises—the bangs, booms, crackles, sizzles, and whistles—can cause your dog to become anxious. You could try blocking out the unfamiliar noises by providing your dog with some background, or white, noise. Set up a radio near his dog bed or crate and tune it to play an easy-listening station (unless your dog is into jazz!). Spotify has a ZenDog channel you could use. You might try a fan, pointed away from your dog, to muffle some of the outside sounds. You could also try one of the white noise machines, like the ones sold for babies or frequent travelers. The soothing and familiar sounds will help to lower your dog's stress levels.
3.  Wear ID Tags
 Every time your dog is outside, he should be wearing identification tags, but this is doubly important during the Fourth of July holiday. More dogs run off and get lost during Fourth of July than any other time of the year. Having an identification tag with your contact information on it will help you get reunited with your lost pup much sooner. Don't rely on your dog's microchip to take the place of a dog tag. The family three blocks over that finds your dog on the Fourth of July probably doesn't have a microchip reader. They will have to wait until the holiday weekend is over to take the found hound to the vet to see if he can be identified. But if he had an ID tag with your phone number on it, then your dog would be back home sooner.
2.  Thunder Shirt…Not Just For Thunder
 If you know that your dog has anxiety issues when he hears loud noises, then you may want to invest in a Thunder Shirt. These doggie jackets work by fitting snuggly on your dog and giving him a gentle hug which, studies show, help to alleviate stress and anxiety. As the name implies, the shirts are also effective for helping dogs with thunderstorm phobias.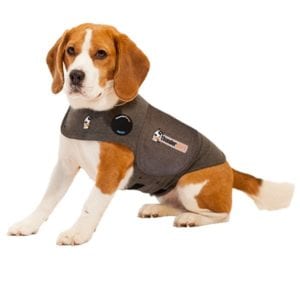 1. Anxiety Meds
 Talk to your veterinarian about your dog's fear of fireworks and his level of stress that comes every Fourth of July. There are some anxiety medications that your vet can prescribe that can help to keep your pup calm during the noise and chaos of Fourth of July. You can also ask your veterinarian for his or her recommendations for over-the-counter doggie anxiety meds, such as TranQuil. Your vet should be able to discuss the key ingredients in some of the OTC remedies and let you know which ones are effective and which ones to avoid. He or she can also suggest the proper dosage for your dog, based on his age, breed, weight, activity level, and overall health.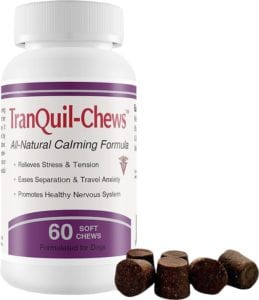 Fourth of July should be a time of fun and celebration for every member of your family—even the four-legged ones. The holiday, unfortunately, can also bring with it situations that could lead to injury or anxiety for your dog. By following these Top 13 Dog Safety Tips For Fourth Of July, you and your pup can reduce many of the risks that come with celebrating America's independence.