To keep your dog safe and to preserve your good relationship with your neighbors, you need to keep your dog securely in your house or yard. Sometimes, however, your dog has other plans. He may have a sudden, burning desire to chase after a rabbit or squirrel. He may have an even more burning desire to visit a female dog in your neighborhood. Or he may just want to go on a walkabout to take in the sights. If you have a Houdini dog that likes to escape, then try some of these Top 10 Ways To Prevent Your Dog From Escaping.
10. Do Routine Perimeter Checks
Get in the habit of walking your back yard (or front yard) fence line on a regular basis. When you do, inspect the condition of the fence, the gate, the ground, and anything else that could end up helping your dog in his escape efforts. Repair loose boards. Fill in holes. Fix gate latches. Never assume that the fence has remained in the same condition as the last time you checked it. A storm, errant trash truck, or unruly neighbor kid could have caused some damage to your fence when you weren't home.
9. A Rocky Foundation
One landscaping tip to try is to install a border of small rocks or pea gravel in a wide swath along your fence line. Many dogs are turned off by the rocks and won't dig there so there is no danger in tunneling out. Not every dog is anti-gravel, however. Some dogs are just as happy to burrow through pebbles as they are dirt.
8. Keep The Fence Line Clear
Avoid putting things near or against the fence. Dogs are clever and not above using a propped-up bicycle, garden trellis, wood piles, swing sets, riding lawn mower, or child's playhouse as a launching point to propel them over the fence. This means training all members of the family to keep the fence clear so that your dog won't have a tool to aid him in his escape—and we know that training family members is harder than training your dog!
7. Go Higher
That standard three-and-a-half-foot tall, chain link fence may not be tall enough to keep your dog confined to your yard. Some dog breeds are champion high jumpers (I'm looking at you, Border Collie!) so you will need a much higher fence to get the job done. Six or eight feet should be sufficient.
6. Go Lower
Dogs like to dig, some more than others (This means you, Dachshund!). Even if you build your backyard fence to be flush with the ground, it is not too difficult for a pup to burrow his way under and out. You can go lower with the fence, burying a portion of it in ground to stymie your dog's tunneling activities.
5.  Invisible Fences, Pros And Cons
An invisible fence is a great option if your neighborhood doesn't allow fences. From your dog's perspective, however, there are some pros and cons to consider. Your dog may become frustrated and agitated if he can see other dogs in his neighborhood yet can't get close to them. The invisible fence may keep your dog in his own yard, but it doesn't stop other dogs from coming onto your property. Lastly, the invisible fence may end up keeping your dog out of your yard. If he becomes too excited or upset, then he could bolt through the invisible line and find himself on the other side. Then he can't get back to his own yard because it requires him to cross the invisible fence boundary again. Before settling on an invisible fence, be sure to read up on all the pros and cons.
4. Wood, Not Wire
When picking out a fence for your yard, consider installing a wooden privacy fence instead of a chain link fence. This will prevent your dog from seeing all of the wonderful things on the other side of the fence that may tempt him to go AWOL—like squirrels and mail carriers. Typically, wooden privacy fences are more costly than chain link fences, but privacy fences have many advantages beyond providing a visual barrier for your dog. Your nosey neighbors can't spy on you and you won't have to look at the creepy guy across the street who likes to sunbathe in his Speedo.
3.  Puppy Bumper Collars
Often, it is the tiny puppies with over-active curiosity that worm their way through the smallest openings in their quest to explore the big, wide world. Try using a puppy bumper collar, a contraption that looks like an airline travel pillow for dogs. The oversized, plush pillow collar makes it quite difficult for pups to wiggle through holes and cracks.
2. Install A Coyote Roller
Don't know what a coyote roller is? No worries. Not many people do. Basically, a coyote roller is a metal bar that you install at the top of your fence. It rolls freely so animals—coyotes and their close cousins, your dogs—can't get a foothold to scale the fence. It is a safe, effective, low maintenance way to prevent your pooch from going over the wall and, of course, it stops predatory coyotes from leaping into your yard.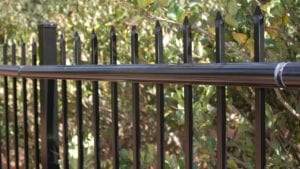 1. Angle The Top Of The Fence
When erecting your fence, consider angling the top to slant in toward your yard. This way, if your crafty pooch can scale the wall, then he will be stopped by the angled top portion.
The old saying, "Where there's a will, there's a way," must have been referring to dogs and fences. A smart and determined dog may still try to escape, but your task is to make it as hard as possible for them. Keeping our pets safe from harm is a top priority—even if they think they are Houdini.